Home

Simon Balthazar
Simon Balthazar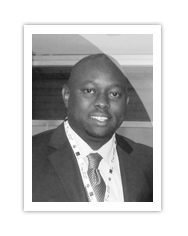 Nominator:
Bryton Focus
bryton@tznic.or.tz
TZNIC
Organisation
Tanzania Network Information Center
Current Position:
Technical Contact for .tz ccTLD
Physical address
New Bagamoyo Road,Millennium Towers Suite 04
E-mail address
simon@tznic.or.tz
Phone number
+255754711104
Country of Residence
Tanzania

Secondment
Not Applicable
(Nominated by Member in good standing)
Candidate Brief Statement:
Simon Msafiri Balthazar is the Technical Contact for .tz ccTLD at Tanzania Network Information Centre with responsibility for managing the technical operations of the registry. Apart from technical operations, Simon forms part of management of TZNIC and sits in the board as a non-voting member.
Prior to joining TZNIC, Simon worked in telecommunication industry at several companies, including Tanzania Telecommunication Company Limited and Vodacom Tanzania Limited. During his time at TZNIC, Simon has accomplished quite a number of things which include setting up a registry from its infancy to where it is now, he also pioneered the first implementation of IPv6 in Tanzania, participated in organizing the first ever AFNOG 12 / AFRINIC 14 in Dar es Salaam, Tanzania, participated in organizing AFTLD 2009 in Arusha, Tanzania and recently he worked with ISC to implement the hosting of F-Root Server node in Tanzania.
Simon is constantly participating in formulating policies that govern TZNIC operations and also follow up regional policy development via AFRINIC-RPD mailing list. Simon holds a BSc. in Information Systems and Technology from United States International University (USIU) and currently undertaking Executive MBA organized by Maastrich School of Management and Eastern and Southern Africa Management Institute.
Inno
Great candidate. Highly reccommended.
2 weeks ago 2 Likes
Ismail Settenda
Go for it bwana, be assured we behind your bid.
1 week ago 1 Like
Ali Damji
Highly Recommended - He is doing an excellent job at tzNIC.
1 week ago 1 Like
Araf Sykes
Good Luck Simon, we wish you all the best, am sure you are the right man for the job and would like to recommend you - Internet Solutions
1 week ago
Mareka Matekere
Highly recommended.
let me share a small chemistry we got with Simon. beside the things he did in IT through out his career. but he has all the quality to be a leader. He guided me in the first three years of my primary school he use to pick me up and cross the roads together on our way to school. just trying to show his dedication. funny enough during my young age I was not allowed to go to play grounds; but whenever Simon was there I would get the permission lol. Its a true story.He got it all, may you vote for him he is truly capable .
1 week ago
Evelyn Amani
I highly recommend Mr. Balthazar.
1 week ago
Abibu
I recommend Mr. Simon M. Balthazar based on what he has contributed to Tanzania through tzNIC. He can equally contribute more to the continent through AfriNIC.
Eng. Ntahigiye Abibu - tzNIC Manager
1 week ago
Maro
I highly recommend Simon for he deserves.
1 week ago
Joshua Klubi
Great Guy, Super managing experience, someone you can count on, Takes his work very very serious, Great team player
1 week ago
Ronald
Very hard working, highly recommended.
1 week ago
Yahya
Excellent! Highly recommended
1 week ago
Akber
Simon is a great individual - the right choice
2 weeks ago
Gkapinga
I have had the pleasure to work with Simon, I believe he will be a great and effective board member.
2 weeks ago
Arbogast Fabian
i strongly recommend Simon Balthazar
2 weeks ago
Marian
I highly recommend Mr. Balthazar for his skills and hard work. Excellent candidate
2 weeks ago
Marian
I highly recommend Mr. Balthazar.
2 weeks ago
Rafiy Saleh
Certainly a very good and suitable candidate for the position. Hardworking gentleman, very attentive to details and supportive.
2 weeks ago