Home

Badru Ntege
Badru Ntege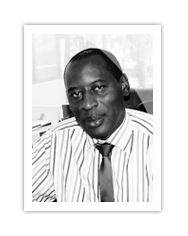 Nominator:
Douglas Onyango
ondouglas@gmail.com
Organisation
NFT Consult Ltd
Current Position:
CEO
Physical address
Plot 6/8 Kyagwe Rd, Kisozi Complex, Kampala, Uganda
E-mail address
badru.ntege@nftconsult.com
Phone number
+256772712088
Country of Residence
Uganda

Secondment

James Byaruhanga james@roketelkom.co.ug
Roke Telkom

Richard Mikisa, richard.mikisa@tullowoil.com,
Tullow Oil
Candidate Brief Statement:
I have been involved with AfNOG and AfriNIC for over 10 years of which I also served as a board member for 2 years. I'm very active in the East African region with my company having operations in Uganda, Rwanda, Burundi, Tanzania and South Sudan. Being one of the biggest Telecoms employers in the region supporting at least one major Telco in all the above listed countries I have an active interest in making sure that AfriNIC as an entity has a sustainable future.

Over the last 10 years being part of the AfNOG and AfriNIC community has showed me what value a community with common interests can achieve, however the more I look at our successes I realize the amazing opportunities we still have to achieve. It's because of this I choose to run for Board member.

In my personal achievements I'm Chairman and Group CEO for NFT Consult, I also chair the Uganda Business Process Outsourcing Association. I'm an active contributor to a number of ICT related public and private organisations in the East African Region. And have also served as a working group member on the Presidential Investment Roundtable in Uganda for the period of 2008-2012.

I believe our immediate challenge as AfriNIC is building a strong sustainable membership which will need us to have an outreach program actively working with educational institutions on the continent enabling us to attract the youth. I also believe with my experience of working with both private and public sector equips me with a selection of transferable skills that will bring renewed vibrancy and a performance based mindset to the board.

Showing 2 comments
Richard Mikisa
Mr. Badru Ntege is and has been positively active in the community for a long time now. Besides his known works that have been highlighted in his statement above, he has also helped nurture a number of now prominent Engineers in the community. He comes with a wealth of experience both from the Technical and Policy spheres. I am sure he would be of great value to the AfriNIC board.
1 week ago
Rafiy Saleh
Looks to be good candidate with past experience in the similar role.
1 week ago