Home

About the AfriNIC-15 Public Policy Meeting
About the AfriNIC-15 Public Policy Meeting
AfriNIC bi-annual Public Policy Meetings attract industry professionals in a very open and cooperative environment. They provide a unique opportunity for all Internet related organisations to gather and have their say in the Internet policies governing our region, through policy development and discussions, sharing of technical knowhow, tutorials and training. Local meeting hosts thus receive optimum exposure being associated with such events and particularly in collaboration with AfriNIC, being a key player in IP address distribution and Internet development in the region
Who should attend?
AfriNIC meetings are open to anyone and there is no registration fee. They are particularly relevant to members, ISPs, the Internet community, academia, governments and regulators.
Why should you or your employee participate in AfriNIC-15?
Have your say on policy proposals that may directly affect the way your organisation accesses Internet number resources, or you can present your own proposals;
Hear world-class speakers discuss cutting-edge Internet resource management research;
Learn about best practice in Internet resource management to make your business more efficient; and,
Make valuable contacts for building business relationships.
Local Hosts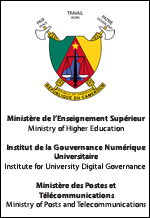 Platinum sponsor
No sponsors have been announced.