Home

Meeting

NRO-NC Election

NRO-NC Candidate - Douglas Onyango
NRO-NC Candidate - Douglas Onyango
October 19, 2011 11:41 am
Candidate Brief Statement:
I am a (BSc IT, CCNA, CCNP) IT Consultant with knowledge and experience in Network Design and Deployments in Uganda and Africa. I am also an Internet Governance enthusiast who has participated and spoken at various Internet Governance events and debates including:- I-Networks, Ug-IGF, EA-IGF, UN-IGF, AfriNIC etc. I have a keen interest in Critical Infrastructure Policy development and have in the recent years Authored one of the longest debated Policies at the AfriNIC (IPv4 Soft Landing) and a Global Policy on the allocation of IPv4 blocks to Regional Internet Registries - Post Exhaustion. These two Policies and the dynamic mix of Core Technical and Layer 9 skills embody my passion for the Africa/AfriNIC region - and I believe the NRO seat provides another/better platform to advocate for the region's unique needs in the global arena especially in this important time in the life of the Internet.
Local Hosts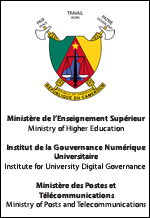 Platinum sponsor
No sponsors have been announced.