Home

About Cameroon
About Cameroon
We have a few tips to help you prepare your trip to Yaoundé...
About the country:
Cameroon is located in west Central Africa; bordered by Nigeria, Chad, Central African Republic, Congo and Gabon. It is often referred as "Africa in miniature" as it is land to mountains, rain forests, desert, savannah and a coastal region.
Capital: Yaoundé
Local Time: UTC+ 01:00
---
Currency:
The CFA is the currency used in Cameroon
If you are not yet accustomed to the local currency there are a few notes that may help you before using the local currency below:
*Credit cards are accepted at the hotels however we recommend that you pay cash for your purchases outside the conference hotel premises.
---
Language:
French and English are the two official languages and there are more than 200 dialects spoken in the country. Most of the citizens in Yaoundé are bilingual however French is the preferred language for administration.
---
Weather and Climate:
Cameroon does not have a summer or winter but does have a rainy and a dry season. The rainy season runs from July to October and the dry season is from November to February. It will be the dry season during the AfriNIC-15 meeting and the temperature may rise to 28 °C. We recommend that you carry with you light clothing as well as mosquito repellents.
Local Hosts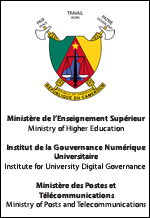 Platinum sponsor
No sponsors have been announced.