Home

Registration

Terms and Conditions / Privacy Policy
Terms and Conditions / Privacy Policy
Table of Contents
AfriNIC is committed to protecting the privacy and confidentiality of information provided by you and all users of the website. Accordingly AfriNIC upholds the relevant data protection principles and processes your personal data in accordance with the Data Protection Act 2004 of Mauritius.You should read this privacy policy statement carefully to understand how AfriNIC uses and protects the information that you provide to it.
By providing your information to AfriNIC, you consent to the collection, use and transfer of your information in accordance with this privacy policy. AfriNIC may amend this privacy policy at any time and any amended version will apply as soon as it is posted on the website. Please check for updated versions regularly.
If you have any questions or comments about this privacy policy, please contact AfriNIC in writing addressed to our legal team legal[at]afrinic.net.
2. Collection Of Your Information
When you visit, register on or request information through the website you may be asked to provide certain information about yourself including name and contact details and other personal information. AfriNIC may also collect information about you and your use of the website from emails or letters you send to AfriNIC, from web forms you complete on the website and by the use of cookies.
Providing any personal information to AfriNIC is strictly voluntary. However, AfriNIC may not be able to provide you with certain information or services if you do not provide the information requested.
AfriNIC collects, retains and uses this information only to the extent it reasonably believes necessary to administer its business, provide the requested Services, protect the integrity of its business practices and secure its systems from unauthorized or abusive access.
AfriNIC will not sell, lease or otherwise give your personal or organizational information to third parties except in the following circumstances: When we need to share your information to provide you with any information or Service you have requested from AfriNIC, or if we need to share your information with third parties who maintain the Site or any successor website for us;
When we have your consent to share the information;

If we are required to do so by subpoena, court order or other legal process;

If we discover that you have violated any of AfriNIC's service policies or usage guidelines, or any other contracts between you or your Authorized Organization and AfriNIC, and such disclosure is required to enforce obligations, rights or laws;

If we transfer operations to a permitted assignee or successor agency.
AfriNIC may contact you by email, post, telephone or fax as appropriate. Your information may be used to provide you with further information about AfriNIC or to otherwise contact you where AfriNIC considers it necessary or appropriate in its role of Internet Number Registry. If you no longer wish us to contact you for any of these reasons or at all, please let us know by contacting the hostmaster via e-mail at hostmaster@afrinic.net or in writing to:
The Hostmaster
AfriNIC Ltd
Level 11
Raffles Tower
Cybercity, Ebene
Mauritius.
You may also opt out of receiving certain communication via the appropriate web forms on the site.
5. Disclosure Of Your Information
The information you provide to AfriNIC in the context of registering Internet number resources may be accessed by or transferred to:
Departments which require such information

Other RIRs
Unless required to do so by law, AfriNIC will not otherwise share, sell or distribute any of your personal information without your consent.
AfriNIC uses security measures to protect your information from access by unauthorized persons and against unlawful processing, accidental loss, destruction and damage. AfriNIC will retain your information for a reasonable period or as long as the law requires.
AfriNIC will always take steps to ensure that your information is used by third parties in accordance with this privacy policy.
AfriNIC is not responsible for the privacy and data protection practices of any web sites to which links are included on the website. You should be aware when you leave the website and move to any linked or other website, and you should read the privacy and data protection policies and statements contained on any such website.
Cookies are small amounts of information stored on your computer by your browser as a result of accessing the website. Using cookies enables AfriNIC to monitor website traffic and to personalize the content of the website to your requirements. This maximizes the benefits you gain in using the website and makes it easier to log on and use the website during any future visits.
AfriNIC may use cookies to collect information about your use of the website whether or not you are registered for any secure areas of the website. Cookies do not contain any information that personally identifies you. They record information such as the domain name from which you access the website and the date and time of your access.
You may view the website without the use of cookies by disabling cookies in your internet browser, but this may limit your access to the website or certain functionality without the website. If you use the website without disabling cookies, you consent to AfriNIC collecting and using information obtained from cookies.
7. Access To And Updating Your Information
You are entitled to see the information held about you and you may ask AfriNIC to make any necessary changes to ensure that it is accurate and kept up to date. If you wish to do this, please contact:
The Hostmaster
AfriNIC Ltd
Level 11
Raffles Tower
Cybercity, Ebene
Mauritius.
8. Use of pictures for AfriNIC purposes
All pictures taken during the event will be considered as AfriNIC's property and may be used for advertising purpose for AfriNIC events and not for any commercial pursuit.
Local Hosts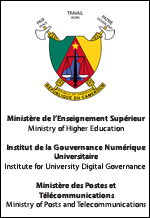 Platinum sponsor
No sponsors have been announced.