Fellowship programme
AfriNIC is offering fellowships for the upcoming meeting taking place in Yaoundé 19-25 November 2011.
The fellowship is reserved in priority for individuals representing small organisations, universities, and media who are actively involved in Internet operations and development or ICT policy in their countries and respective communities. The fellow is expected to positively and actively contribute to IP address management awareness in the AfriNIC service region.
Eligibility

To qualify for the fellowship, you:

should be a resident of the African region;
must not necessarily be an AfriNIC member;
should be from a technical (IT, Computer Science) background;
have not benefited from previous AfriNIC fellowships;
are willing to report on how this fellowship has benefited you/your organisation/country.

Date

Upon selection of the fellows, AfriNIC will notify the selected fellows directly and allow the fellow seven (7) days to reply with an acceptance of the fellowship. A public announcement of the fellowship winners will be made after the acceptance by the winners. Please find hereafter the schedule for the fellowship process:

29 August 2011: Open Call for fellowship applications
13 September 2011: Close of applications
19 September 2011: Notification to pre-selected fellows
26 September 2011: Deadline of acceptance by awarded fellow
03 October 2011: Final announcement and publication of fellowship list

---

What's included

The fellowship includes:

assistance with round-trip airfare to the meeting venue,

hotel accommodation for the AfriNIC Plenary event, from 22 November (the day before the beginning of the Plenary) to 25 November 2011 (the last day of the event).

How to apply

If you think you meet the criteria enumerated above, please complete the questions in the fellowship application form and submit it with your personal detail information before 06 September 2011.

Application for Fellowship is now closed!

We thank you for your interest in this programme and hope to see you in Yaoundé!

---

AfriNIC-15 fellows

AfriNIC is pleased to announce that the fellowship selection process is now complete and the following applicants from 59 applications were selected to receive a fellowship to attend the AfriNIC-15 Public Policy Meeting which will be held from 19 to 25 November 2011 in Yaoundé, Cameroon.

The fellows are:

Daniel Ofori from Ghana
Nzimbou Kimbembe from Congo
Adamou Saidou from Chad
Amon Kasonda from Zambia
Emmanuel Ogbodo from Nigeria

Congratulations to the winners and we look forward to collaborating with you in Internet development initiatives in the African Region.

Best fellowship reports

---
Local Hosts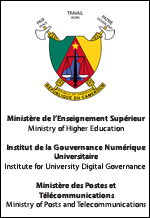 Platinum sponsor
No sponsors have been announced.