Welcome to AfriNIC-15, Cameroon
The AfriNIC-15 Public Policy Meeting will be held from 19 to 25 November 2011 in Yaoundé, Cameroon during which Internet development related training workshops and policy discussion sessions will be organised.
Start by creating your AfriNIC Meeting Account

This account will enable you to register for the training & plenary sessions

View the different sessions taking place during the meeting

---

Tips and information to help you prepare your trip to Cameroon.

Useful information about Cameroon

---
Local Hosts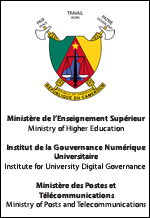 Platinum sponsor
No sponsors have been announced.