::: Travel to Mauritius :::
GENERAL INFORMATION
Mauritius is a small island situated in the Indian Ocean. It is connected via direct flights to almost every capital city. So getting there is relatively easy. The island is about 720 square miles in area, long by around 40 miles and wide by around 30 miles at the biggest ends. The population is around 1,2 million and comes from different cultural and ethnic backgrounds.
MAP OF MAURITIUS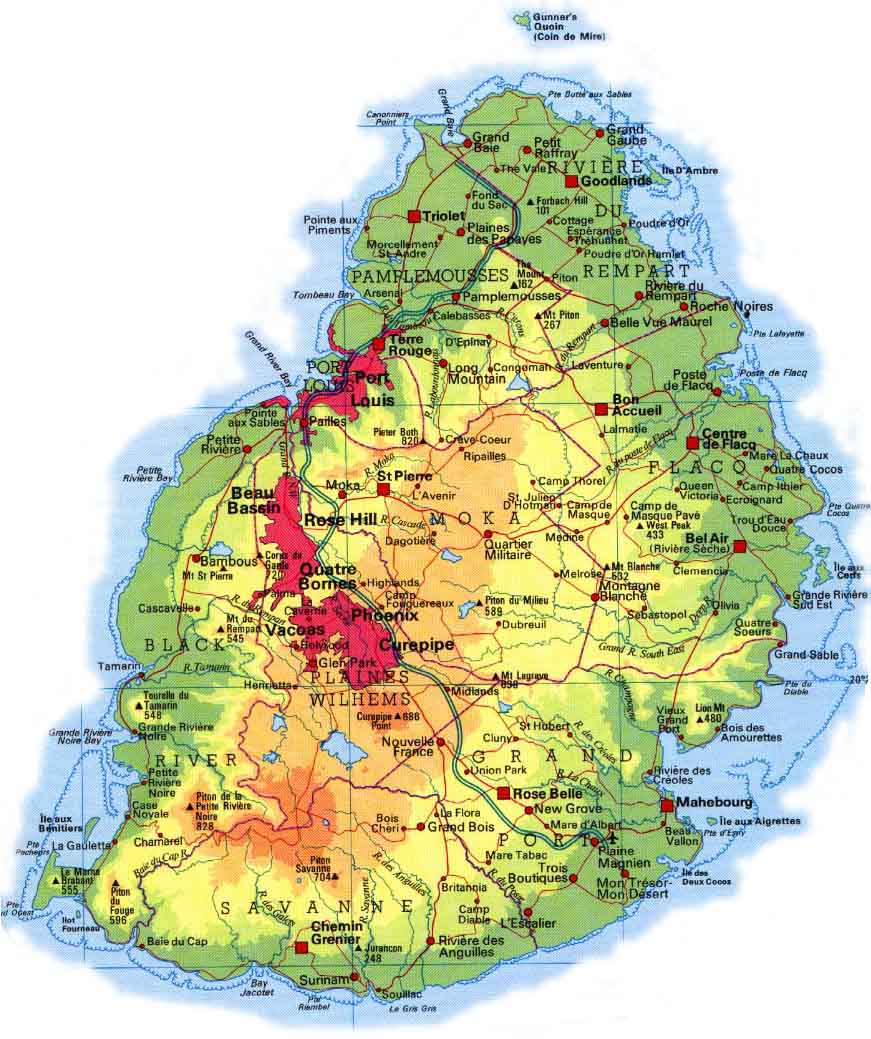 • TIME ZONE
The time of Mauritius is +4 hours after the GMT in winter and +3 hours in summer (Europe).
• TELEPHONE SERVICES
Country Code: 230
Outgoing Code: 020
• LANGUAGES SPOKEN
Main language is Creole. The roots of Creole are in the French language, just skip some grammar and mix it with English, Arab, Indian and some African dialects.
Cultural language is French. Newspapers are published mostly in French and TV is showing most of the emissions in French. Almost everybody understands English. It's the business-language, almost all contracts and laws are in English.
Children are starting school with French and English.
• MONEY
The local currency is called "Mauritius Rupee". It consists of notes of Rs 2000, 1000, 500, 200, 100, 50 and 25. Coins are available as follows: Rs 10, 5 and 1. Smaller ones are called "cents"; it exists in 50, 20 and 5. Changing in Mauritius is much better than in Europe. The first bank you will find already at the airport (open on all arrivals). In almost every town there is a bank where you can change. Tip: private moneychangers usually have better rates than banks and their opening-hours are much more convenient. You can change cash (Euro, Pound, Dollar, Francs etc.) or traveler cheques. In most of the restaurants or shops all major credit cards are accepted.
It is very unusual to pay locally with another currency than Mauritian Rupees
• PASSPORT/IMMIGRATION INFORMATION
To enter Mauritius citizens of most of the European countries will need only a 6 months valid passport, a return-ticket and an address during their stay in the country. If you are not sure, better contact the Mauritian consulate in your country. Maximum stay is 3 months. You will receive the necessary immigration-documents either in the plane or at the airport in Mauritius. (Please do not forget your address in Mauritius – its needed at the immigration-counter).
For more information on visa, embassies and consulates, please click here
• CUSTOM FORMALITIES
Exempted materials: Used clothes and personal stuff and other articles already used that is required for the stay; 250 cigarettes or 50 cigares or 250 grammes of tobacco; 1 litre of spirits and 2 litres of wine or beer, 25 cl of perfume. Guns and bullets must be declared. A permit from veterinary service of the ministry of agriculture is required for import of living animals. Dogs and cats must be quarantined for six months as from the date of their arrival.
IFor flowers plants or fresh fruits, permit must be obtained from the ministry of agriculture prior to the importation. Import of sugar cane is strictly prohibited. Permit for delivery/inspection of plants and animals: Ministry of Agriculture, Reduit, Tel : (230) 454 1091
• CLIMATE
The central part of the island and an average maximum day-time temperature of 20°C in August to about 26°C in February. Along coastal areas, the temperatures are generally 3 to 5 degrees higher. the western and northern regions are warmer and relatively drier than the East and South. Tropical storms are frequent during the cyclone season from December to March.
• HEALTH
No vaccination is required although some more conservative countries would ask their citizens to provide for malaria, but if you would have visited some infected area before landing then a yellow fever inoculation would be required. There is no malaria in Mauritius (just ordinary mosquitoes). You can book and fly!
• TRAVEL INSURANCE

If you need medical care whilst in Mauritius, it is best to be aware that medical providers may not accept payment through your insurance company. In these circumstances you will have to pay in full after your treatment and file a claim with your insurance company for reimbursement. Therefore you should have access to cash, either from a credit card or by wire transfer. If you need assistance contact the country's local embassy or representative.

To be compensated you must be treated by licensed medical personnel and provide your insurance company with proper documentation and receipts.

It is advisable to always ensure you have a comprehensive travel insurance policy which covers you for repatriation to your home country.
• CURRENCY CONVERTER
Currency:   1 Mauritian Rupee = 100 cents
Current Exchange Rate:     Today's Exchange Rate
• BANKING
Banking: Monday to Friday: 0930-1430  Saturday: 0930-1130
Shops:     Monday to Friday: 0930-1700   Saturday: 0900-1200
Governmental Offices:    Monday to Friday: 0900-1600   Saturday: 0900-1200
ATM LOCATOR IN MAURITIUS
1. HSBC
2. Location of Visa ATM's
• TRANSPORTATION
Sir Seewoosagur Ramgoolam International Airport
( IATA : MRU ,  ICAO: FIMP ), also known as Plaisance International Airport , is an airport located in Plaine Magnien, near Plaisance and 26 nautical miles southeast of Port Louis, the capital of Mauritius . The terminal building is a single storey structure with an outdoor parking lot attached.
• Taxis
You pay taxis always for both ways. Therefore its cheaper to let a taxi wait than to take a second one home. Just fix the price before departure and pay at the end.
Tip: taxi drivers are good guides. Take a taxi for a full day and let him show you the best places. A full day costs around Euro 50.
• Buses  
Busses are almost everywhere! The busses are comfortable, and bus fare cheap: you can reach Port Louis from all spots of the island for less than Euro 1.
• Car Rental
All international companies (Europcar, Hertz, Avis etc.) have a counter at the airport. Cheaper are the private companies in the tourist areas. Please note that all registered car rentals must have yellow plates! Rate: as from Euro 30 per day.
• TOURIST ATTRACTIONS
Information on Mauritius Tourism Office in Mauritius and Abroad, click here
For more information on tourists spots, shoppping information, restaurants, click here
To see the picture gallery of Mauritius Island, click here
• LINKS