Police: 111 or 170
Firemen: 180
Medical Emergency services: 180
Emergency / Intensive care : 185
Hospitals in Abidjan, C.H.U. de Cocody: phone + 225 22 44 9100 / 9025 / 9060, Polyclinique des deux Plateaux: phone + 225 22 41 3320 / 3334 / 4621 / 4421 / 4499, Centre médico-chirurgical de Bietry : phone + 225 21 24 7278/ 21 25 2660/2560 / 21 35 6247, Polyclinique Avicennes : phone + 225 21 21 13 01/02, Nouvelle clinique du Belvédèrere : phone + 225 20 21 4665 / 20 21 2937, Hôpital psychiatrique, Bingerville : phone + 225 21 30 3040, Institut de Cardiologie : phone + 225 2125 81 29, fax + 225 2125 92 10, Polyclinique Internationale De L'Indenie, 4, Bd de L' Indenie - Plateau : phone + 225 20 21 53 53, fax + 225 20 22 81 59, Polyclinique Internationale Sainte Anne-Marie, Avenue J. Blohorn : phone + 225 22 44 51 32, fax + 225 22 44 68 60, Polyclinique la Madone, Boulevard du Gabon, Marcory Hibiscus : phone + 225 2126 1456, fax + 225 2126 6534
Electrical sockets (outlets) in the Republic of Côte d'Ivoire are one of the two European standard electrical socket types: The "Type C" Europlug and the "Type E" and "Type F" Schuko. If your appliance's plug doesn't match the shape of these sockets, you will need a travel plug adapter in order to plug in. Travel plug adapters simply change the shape of your appliance's plug to match whatever type of socket you need to plug into. If it's crucial to be able to plug in no matter what, bring an adapter for all three types.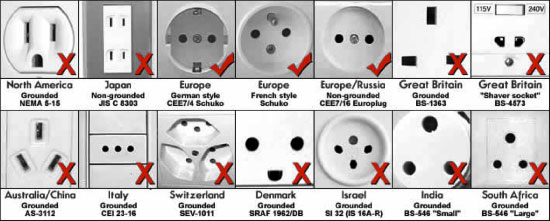 Rainfall is heavy, particularly in the low coastal region. The rainy season is from May to October. In the south, climate is equatorial, thus very humid. The rain season lasts from May to November with an interruption in July and August. The rest of the year, the atmosphere remains clammy, the sky is often veiled and there are occasionally rainfalls, but temperatures are constant (29 to 32°C). In northern Cote d'Ivoire, the climate is more tropical, with a rather intense rain season from May to September. The best moment to travel is from November to March, when the sky is blue, the atmosphere is dry and nights are cooler. In January and February, the harmattan, a sandy wind coming from Sahara, may be violent.
The official language is French, but there are 60 native dialects as well. The most widely spoken is Dioula. Other native languages include Hamdunga, Loftus Africanus, Gigala, Oloofid, and Ulam. But one cannot survive without French for longer time duration. And business travelers need French on their tongue to close any small deal.
The west African CFA franc denoted by the ISO 4217 code XOF is the official currency of Côte d'Ivoire. The franc is nominally subdivided into 100 centimes. It is also the currency of seven other independent west African states: Benin, Burkina Faso, Guinea-Bissau, Mali, Niger, Senegal and Togo.