instructions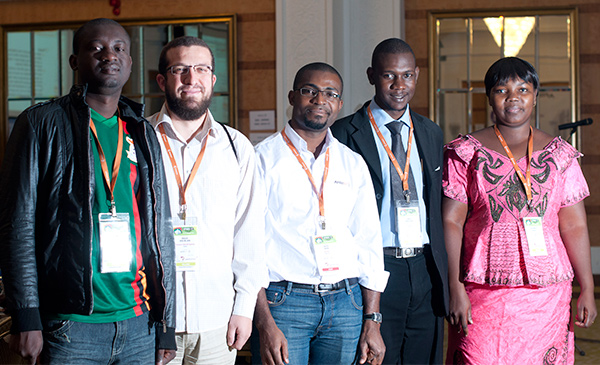 The Call for fellowships is now closed.
The AFRINIC-19 Fellowship programme provides opportunities to individuals from small organisations, universities, and media from African countries to participate in the AFRINIC-19 Meeting. The programme provides basic financial assistance to selected applicants, who fulfill eligibility criteria and are subsequently selected by the Fellowship Committee.
AFRINIC is pleased to announce that the fellowship selection process is now complete and the following applicants (from more than 150 applications received) were selected to receive a fellowship to attend the AFRINIC-19 meeting.
The fellows are:
Priscille Njamen Tchuigoua, Gabon
Sah Gbegnon Senami Marius, Benin
Roger Oteng Baah, Ghana
Akinmoyeje Benjamin Akintunde, Nigeria
Ben Jemaa Mustapha, Tunisia
Marcel Ritchard Morris, South Africa
Congratulations to the fellows and we look forward to collaborating with you in Internet development initiatives in the African Region. 

We wish to thank you all for your applications and interest in attending AFRINIC events and we look forward to your participation! 


Please be advised that fellowships will also be offered for the Africa Internet Summit 2014 and the community will be informed when the application period opens.
The Fellowship Award which is granted to successful applicants (Fellows) covers a proportion of travel, and living expenses associated with attending the Meeting. The selected fellow is expected to positively and actively contribute to IP address management awareness in the AFRINIC service region.
Prerequisites
To qualify, the fellow:
should be a resident of Africa;
must not necessarily be an AFRINIC member;
should be from a technical (IT, Computer Science) background;
has not benefited from previous AFRINIC fellowships.
In addition you must be willing to report on how this fellowship has benefited you/your organisation/country, The fellowship includes:
Assistance with round-trip airfare to the meeting venue;
Hotel accommodates for the AFRINIC Plenary event, from the day before the beginning of the Plenary to the last day of the event;
Per diem allowance;
Fellows accept responsibility for all liabilities and costs associated with medical and travel insurance;
Fellows are required to attend and participate in all sessions of the event, and funding may be withheld in case of absence from any part of the event.
If you think you meet the criteria enumerated above, please submit your application when our call for fellowship applications opens.
Important dates
Call opens on 5 August 2013
Call closes on 27 August 2013
Notification of selected fellows on 10 September 2013
Deadline of acceptance by awarded fellow on 24 September 2013
If you have questions, please send an email to fellowship[at]afrinic.net